Thank you TWIN TOWN TREATMENT CENTERS,  LEE MCCORMICK,                 RECOVERY NOW TV and MALIBU HORIZON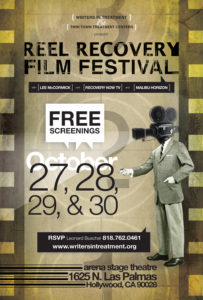 Arena Stage Theater
1625 N. Las Palmas
To obtain FREE tickets, RSVP your name, film and how many seats we should reserve-4 maximum. For a block of seats for your facility, please call 818-762-0461
TUESDAY  OCTOBER, 26, 2010
OPENING NIGHT SPECIAL EVENT!
There will be a Drum Circle procession around two square blocks in Hollywood to celebrate this film's 25 Anniversary and our Freedom from Addiction! Sometimes vibrations speak louder than words, or even a good speaker. Bring a friend and bring a drum. At 7:00pm. We will gather at the theater at 6:30. Elders from Alkali Lake will lead the procession.
8pm 25th Anniversary Screening of: THE HONOUR OF ALL 1985

This is a true story of how a few people took control of their lives and generated a new atmosphere of dignity and hope for all. This film re-creates the events that took place in the small northern B.C. Indian community of Alkali Lake between 1940 and 1945. With the level of alcoholism at virtually 100%, a few brave individuals transform the community back into a life of sobriety. 81 minutes
PRESENTED by BETTY FORD INSTITUTE. Special guests from Alkali Lake, B.C.
SECOND  SCREENING on Tuesday Night at 10PM
10pm 25th Anniversary Screening of: THE HONOUR OF ALL 1985

This is a true story of how a few people took control of their lives and generated a new atmosphere of dignity and hope for all. This film re-creates the events that took place in the small northern B.C. Indian community of Alkali Lake between 1940 and 1945. With the level of alcoholism at virtually 100%, a few brave individuals transform the community back into a life of sobriety. 81 minutes
PRESENTED by BETTY FORD INSTITUTE. Special guests from Alkali Lake, B.C.

WEDNESDAY OCTOBER, 27, 2010
2pm THE LAST MUSKETEER 2010

After losing another job due to drinking, Joe Souza (Art Zapata) promises to quit. While sober he gains back the love and respect of his family as well as a good job. Just when everything is going right Joe falls off the wagon…His wife Christine (Nicole Torres), has to leave Joe for the sake of their son who fantasizes he is the D'Artagnan after seeing the movie The Three Musketeers, in hopes of saving his family. 89 minutes
PRESENTED BY: CASA de las AMIGAS, Pasadena
IN PERSON: Writer/Director ART ZAPATA, Co-Director, EMRE KORKMAZ
4pm LOST IN WOONSOCKET 2007

Official Selection of the Jacksonville Film Festival and the Newport Beach Film Festival. Missing for years from their families, two alcoholics are discovered hiding in the woods of Woonsocket, RI by a film crew. A series of profound coincidences lead to a miraculous reunion with their children, signifying the power of love and forgiveness. Directed by John Chester; 81 minutes
PRESENTED BY: ASCEND RECOVERY, Highland, Utah & HIRED POWER,everywhere IN PERSON: JOHN CHESTER


6pm SPIN THE BOTTLE: SEX, LIES & ALCOHOL 2004

SPIN THE BOTTLE offers an indispensable critique of the role that contemporary popular culture plays in glamorizing excessive drinking and high-risk behaviors. The film concludes with concrete strategies for countering the ubiquitous presence of alcohol propaganda, and challenges young people to make conscious decisions about their own lives. Directed by Ronit Ridberg; 54 minutes
PRESENTED BY: NEWPORT ACADEMY


8pm I AM COMIC 2010

I AM COMIC is a 2010 documentary about the world stand-up comedy. Interviews with dozens of different comics offer a range of perspectives on what's funny and how hard comedians have to work to write good material and keep the audience entertained and laughing. This documentary shows how angst-ridden, frenetic and intense the mind of a comic really can be, and the dangers drug use and abuse can have on a burgeoning career. Starring and narrated by comedian turned comedy writer Ritch Shydner. Appearances by: Tim Allen, Ant, Franklyn Ajaye, Lewis Black, Margaret Cho, Phyllis Diller, Jeff Foxworthy, Kathy Griffin, Bobcat Goldthwait, Robert Schimmel, Sarah Silverman and more. Written by Ritch Shydner and Jordan Brady. Directed by Jordan Brady; 87 minutes
IN PERSON: RITCH SHYDNER and JORDAN BRADY
SPECIAL SERIES: NEW YORK CITY BIO-PICS
10pm BASQUIAT 1996

A brilliant film about the now iconic artist Jean-Michel Basquiat, the young American painter whose brief life ended at the point of a needle. Jeffrey Wright turns in an astonishing star-making performance. With David Bowie, Dennis Hopper, Gary Oldman, Benicio del Toro, Courtney Love and Parker Posey. Written and Directed by Julian Schnabel, 106 minutes
THURSDAY, OCTOBER 28, 2010
2pm DRUNK IN PUBLIC 2006

Award-winning filmmaker David J. Sperling has created a gritty & disturbing, yet tender & moving documentary that chronicles the last 15 years in the unimaginable life of Mark David Allen, a man arrested over 450 times. The impact of this film hits people exactly where they seem to need it most. Perfect for families, schools, recovery centers, hospitals, churches, law enforcement and anyone who has ever been affected by addiction, DRUNK IN PUBLIC is an honest and thought provoking film that will open your eyes and challenge your heart. A film by David J. Sperling; 81 minutes PRESENTED BY: INTERCOAST COLLEGES IN PERSON: DAVID SPERLING
4pm THE LAST FIX: An Addict's Journey from Hell to Hope 2009

THE LAST FIX is about several men and women, their struggle to stay clean in drug court, and the joyous victory celebrations held at graduation. This film shines a spotlight on alternative sentencing that embraces treatment over punishment, a seismic shift in the criminal justice system. Produced and directed by Jacqui Lofaro and Victor Teich; 69 minutes
PRESENTED BY: KAVINOKY LAW FIRM www.nocuffs.org
IN PERSON: DARREN KAVINOKY
6pm DEADLY PERSUASION: The Advertising of Alcohol and Tobacco 2003


DEADLY PERSUASION exposes the manipulative marketing strategies and tactics used by the alcohol and tobacco companies. It casts a critical eye on the corporate industries whose products kill more than 450,000 Americans each year. A film by Media Education Foundation, 60 minutes
PRESENTED BY: DR. JUDY ROSENBERG, author of Habit Breakers Kick It! Stop Smoking Plan, and MelBriggs www.neverlightagain.com
8:00 CIAO! MANHATTAN 1972

"The Citizen Kane of the Drug-Generation" – The Village Voice. The final screen appearance of famed Andy Warhol Factory muse Edie Sedgwick. This film also stars Factory luminaries Paul America, Viva and Baby Jane Holzer; along with veteran Hollywood star Isabel Jewell, French director Roger Vadim and poet Allen Ginsberg. Ciao! Manhattan parallels Edie's glory days, her inevitable downfall and the devastating addiction that would take her life only weeks after filming wrapped. Original story, Robert Benard. Original concept, Chuck Wein, Genevieve Charbon.Written and Directed by John Palmer and David Weisman, 91 minutes
PRESENTED BY: The Roger Eden's Foundation. IN PERSON: DIRECTOR DAVID WEISMAN
10pm SHUT YER DIRTY LITTLE MOUTH! 2002 Watch the Trailer

Conflict! Love! Hatred! Alcohol! Pathos! Meet Raymond (Gill Gayle), and his lover/flat mate/drinking buddy Pete, portrayed by the late Glenn Shadix in a towering and shattering performance. In this true story, their unquenchable rage is fueled by mutual madness and copious amounts of vodka from O'Looney's Liquors. The two fought with such gusto that the police were frequently called in; worried about potential homicide, their furious yet amazed neighbors tape-recorded the fights. These tapes became an international underground hit sensation. This is a story of two men caught by a dark gravity that the sane will never understand. Unless the sane person's name is Samuel Beckett. Written by Gregg Gibbs (play) and Charles Schneider. Dir. Robert Taicher; 81 minutes
SPECIAL SCREENING TO HONOR GLENN SHADIX (April 15, 1952 – Sept. 7, 2010) IN PERSON: Director BOB TAICHER, Co-Star GILL GAYLE
SPECIAL SERIES: NEW YORK CITY BIO-PICS




FRIDAY, OCTOBER 29, 2010
2pm BEAUTY MARK: BODY IMAGES & THE RACE FOR PERFECTION 2008

Diane Israel, a Boulder-based psychotherapist and former champion triathlete, talks candidly about her long and agonizing personal struggle with eating disorders and obsessive exercising, fearlessly confronting her own painful past as she attempts to come to terms with American culture's unhealthy fixation on self-destructive ideals of beauty and competitiveness. A film by Diane Israel, Carla Precht & Kathleen Man, 51 Minutes
IN PERSON: LIBBY NEAL MA, LPC, ROSEWOOD CENTERS FOR EATING DISORDER TREATMENT
4pm THE WEIGHT IS OVER 2010

Eric Edwards, formerly a successful, 365-pound comic actor (Sgt. Bilko, Blade, Candyman and many more), has shed 210 pounds and not everyone in his life is pleased. "With an outstanding sense of comic rhythm and imagery, Edwards mutates into his whacked-out, chain-smoking agent, who doesn't want to lose her meal ticket."
PRESENTED BY: ANGELA R. WURTZEL MA, MFT, Santa Barbara, San Luis Obispo. 805-884-9794 IN PERSON: ERIC EDWARDS, in Conversation!
6pm THE MISFORTUNATES 2010


This is an extraordinary film and Official entry at the Toronto International Film Festival. Based on an autobiographically tinged novel, this is a Belgian coming-of-age story about a 13-year-old who grows up in a family full of alcoholics, a family that lives to drink, and drinks to live. The flashbacks that illuminate the movie provide a gritty, startling look at the realities of alcoholism, but the film, which is complete with comedic moments from riding bicycles naked to sloshing around in drag, certainly has its ups and downs. Directed by Felix van Groeningen; 1 hour 48 minutes
8pm TOUCHING HOME 2010


"This semiautobiographical movie is an obvious labor of love, produced, written and directed by Noah and Logan Miller, first-time filmmakers and identical twins who play versions of themselves. The film is dedicated to their father, who died alone in a jail cell. Ed Harris gives a deeply affecting portrayal of a homeless alcoholic with a gambling habit living in Northern California. For all the hard times on display, 'Touching Home' is suffused with a glow of apple-cheeked nostalgia that often clings to baseball movies." New York Times
Starring Ed Harris, Brad Dourif, Robert Forster. Written and Directed by: Logan Miller & Noah Miller. 108 minutes.
IN PERSON: LOGAN AND NOAH MILLER PLUS OTHER SPECIAL GUESTS
SPECIAL SERIES: NEW YORK CITY BIO-PICS
10pm POLLOCK 2000

Trailer for Pollock Artists and lovers Jackson Pollock and Lee Krasner are at the center of New York's 1940s art scene, but as Krasner neglects her work to push Pollock's career forward, Pollock begins to unravel emotionally. Pollock creates work that makes him the first internationally famous modern painter in America. But with fame and fortune comes a volatile temper and alcoholic demise. Starring Ed Harris, Marcia Gay Harden, Jennifer Connelly, Val Kilmer and John Heard. Book by Steven Naifeh and Gregory White Smith. Screenplay by Barbara Turner & Susan Emshwiller. Directed by Ed Harris, 122 minutes
SATURDAY, OCTOBER, 30, 2010
10:30 RECOVERY NOW TV – LIVE TELEVISION TAPING

Please join us as audience members at this exciting Live filming.  Host Mike Cohan conduct interviews with some champions of   recovery. LIVE MUSIC.
2pm FILMMAKERS' SHOWCASE
THE AGENCY 2010

Linda she just got out of rehab and she's clean and sober. Smart, ambitious, college educated and very sexy, She plans to start her own business…which takes her down a very 'slippery' slope. Linda wonders how it all came down to this. Starring Angela Gots and Gerald Brodin. 6 minutes.
IN PERSON: DIRECTOR: BETH DEWEY, PRODUCER: TINA PAVLIDES, ACTORS: ANGELA GOTS, GERALD BRODIN


SOMETHING IN BETWEEN 2004


Something In Between is a short film about the intangible nature of addiction. This official SUNDANCE FILM FESTIVAL entry starring the late great Brittany Murphy is a stark and neo-science fiction look at addiction set in a parallel future reality. 13 minutes. Written and directed by Zackary Adler. Founder: RECOVERY ROAD PRODUCTIONS.
This screening is dedicated to Brittany Murphy.
IN PERSON: ZACKARY ADLER
TOMORROW 2010

Nominated: Best Foreign Film- Action On Film International Film Festival; 2010 Official Selection- Atlantic City International Film and Music Festival 2010. An outrageous film from the United Kingdom. Terry has a lot going for him: beautiful children, good friends and lots of opportunities. One thing holds him back. Terry is an addict. One bite and he is powerless. A clever and funny metaphor for addiction. Written and directed by Luke Bradford, 14 minutes
IN PERSON, from London, LUKE BRADFORD
CONVERSATIONS WITH LUCIFER 2010

Meet Darby Quinn, a recovering drug addict going through the early stages of sobriety. Though lovely to look at, and quite charming at times, Darby is irritable and rash with a fuse as short as the cigarettes she chain smokes to the filter. She is resolved to stay clean in a twelve-step program, but her cat Lucifer has other ideas. A charming and insightful look at early recovery from a seductive woman's point of view. Written by and starring Shevaun Kastl. Directed by Cody Boesen, 20 minutes.
IN PERSON: SHEVAUN KASTL and CODY BOESEN
BED RIDDEN 2009      It's not the Journey, it's the Desperation.                                  
Based on a true story, BED RIDDEN chronicles the last score of a young addict/alcoholic named "Jay," who decides he can still navigate the streets of Los Angeles despite the fact a loved one has handcuffed him to his bed to stop him from scoring drugs. BED RIDDEN probes both the comedic and poignant sides of an addict's obsession and its impact on the people he knows and loves. Written by New York Times best-selling author and screenwriter Lowell Cauffiel. Directed by Jonathan Heap. Starring Joel Moore, Jessica Cauffiel, Janine Mitchell and Garrett Morris.
IN PERSON: JONATHAN HEAP and LOWELL CAUFFIEL.
4pm SPECIAL SERIES: NEW YORK CITY BIO-PICS
4pm BASKETBALL DIARIES 1995
In a performance hailed by critics across the country, Leonardo DiCaprio stars as Jim Carroll, author, poet, hustler and new wave/punk hero. Jim finds solace in all the wrong places, and the dark streets of New York begin to tear him apart. He can't go home, and his only escape from the reality of the streets is heroin for which he steals, robs and prostitutes himself. Also starring Juliette Lewis, Bruno Kirby and Mark Wahlberg. Directed by. Scott Kalvert, 102 minutes
PRESENTED BY: RANDY CHORTOFF & DELTA GROOVE PRODUCTIONS
6pm SPECIAL FINAL FEATURE PRESENTATION
6pm THE LOIS WILSON STORY: WHEN LOVE IS NOT ENOUGH 2010
The epic story of devotion, recovery and hope. Based on the true story of the enduring but troubled love between Lois Wilson, co-founder of Al-Anon, and her alcoholic husband Bill Wilson, co-founder of Alcoholics Anonymous. It stars Winona Ryder as Lois and the extraordinary Barry Pepper portrays Bill Wilson. Not to be missed in a theatrical setting. Written by William G. Borchert and Directed by John Kent Harrison. 96 minutes
PRESENTED BY: HAZELDEN'S SPRINGBROOK CENTER, NEWBERG, OR. 866-866-4662 Hazelden.org/springbrook
8PM t0 1AM
CLOSING NIGHT GALA

GREEN ROOM CAFÉ/BAR (Musician's Institute Complex)                                                  6756 Hollywood Blvd. Hollywood CA 90028
(one block from the theater)
LIVE MUSIC with  VERY SPECIAL GUESTS

BOB FORREST (Thelonious Monster, Celebrity Rehab) with ZANDER SCHLOSS (Thelonious Monster, Circle Jerks)

HENDRIX REDUX with James Fuchs and special guests
DINNER and soft drinks included $35.00
Patio seating available