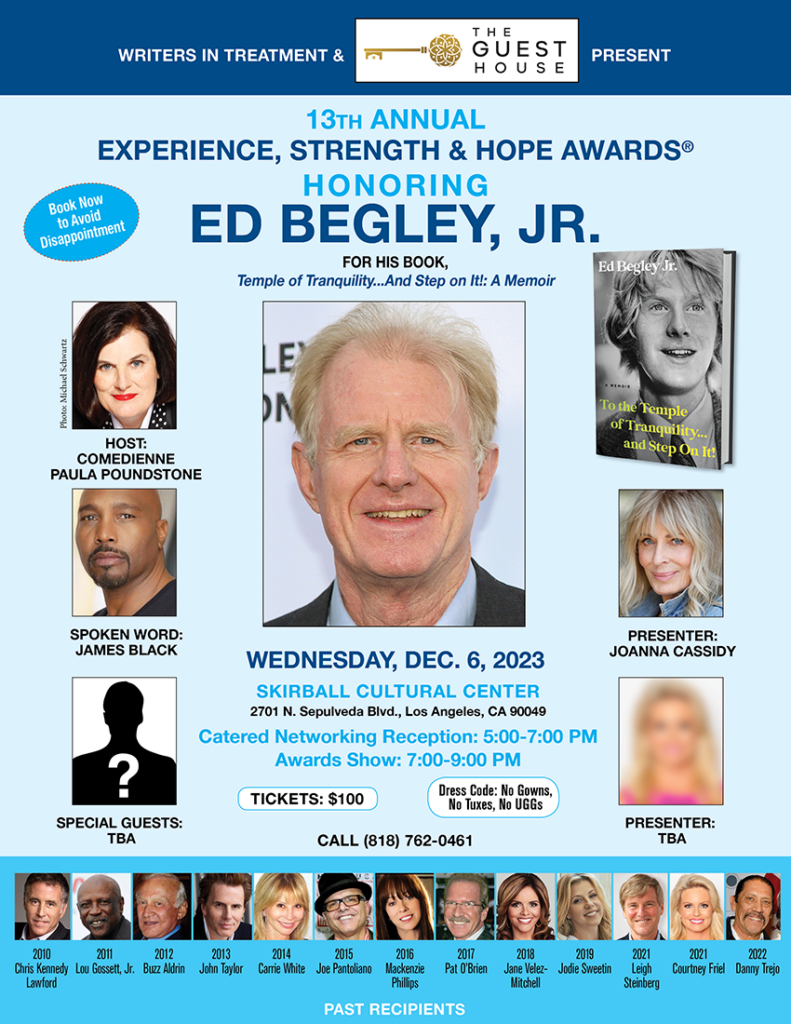 Wednesday, December 6, 2023
Skirball Cultural Center
5:00-7:00pm – Catered Networking Reception
7:00-9:00pm – Awards Show
HIGHLIGHTS OF THE 2021 EVENT
Thank you to everyone who came together in laughter, song, and celebration for this year's Experience, Strength and Hope Awards. Collectively, we honored Super-Sports Agent, Leigh Steinberg and KTLA News Anchor, Courtney Friel.  They epitomize fearless, unabashed sober people eager to share their stories of recovery with the world.  Whether in their popular memoirs or through social media, Courtney and Leigh have never wavered in their desire to help erase stigma and promote sobriety as a better way of living.
Writers In Treatment whole-heartedly thanks everyone who poured their time, sweat, love and tears into making this event a stunning reality.
Leonard Buschel – Founder/Director The man with the plan, year after year, He makes it happen
Shadoe Stevens – Pinch-Hitting Emcee-you knocked it out of the park!
Blu Nyle – Love walked in with you
Philip Lawrence – 8-time Grammy winner, songwriter extraordinaire-blew our minds.
Alonzo Bodden – Professional comedy Hit-Man. Spit-out-your-petit-four-funny.
Stevie Mack – One-man comedy explosion. 7-minutes in hilarity.
Vicki Schairer and Cast – Remember, "Just Relax".
Joanna Cassidy – Can't wait 'til your memoir comes out.
Tony Denison – Villain no more, you saved the day.
Laurie Dhue – Honest, open-minded, willing.
Rachel Madison Hill – Publicist and sister-in-arms, ready to do anything.
Chris Lukather – Tireless webmaster/graphic artist, wish you'd been there.
Ahbra Kaye Schiff – Festive centerpieces/Bold suit.
With much gratitude to: Johnny Perez, Molly Basler, Dr. Karl Abrams, Sarah Kitnick, Tyler Chadney, Darrel DeVera and the Skirball Staff.

Founded in 2008 by author and addiction expert, Leonard Lee Buschel and famed director Robert Downey, Sr., Writers in Treatment® produces and presents events dedicated to the concept that 'treatment works and recovery is possible'.

The Addiction/Recovery eBulletin® is the only weekly industry newsletter committed to sending out the most up-to-date and relevent news from around the world about addiction, sobriety, mental health, scandals and sober celebrities.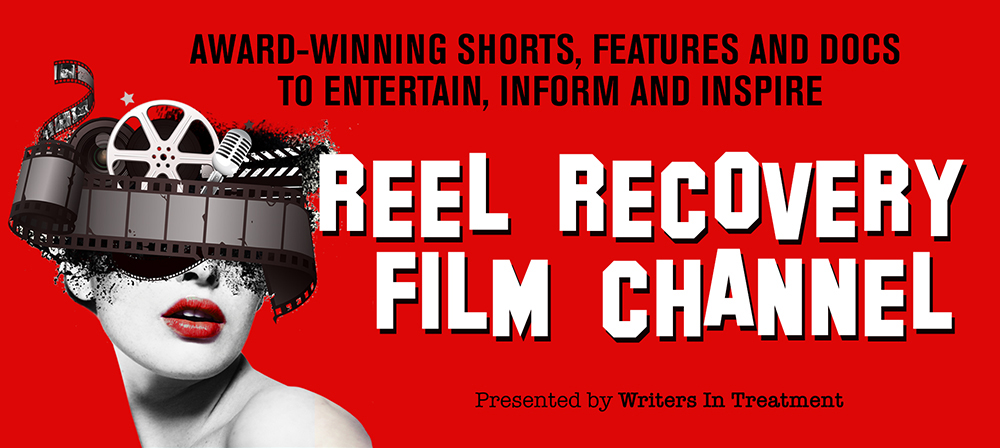 The 14-year old Reel Recovery Film Festival & Symposium  presented in both New York, Los Angeles and Denver is the longest recovery event in the country. It is dedicated to showing recent films that highlight issues of alcoholism, drug addiction, process addictions-including screen addiction and mental illness. The festival has grown to be the premier outlet of addiction/recovery films from around the world, and has an extensive library of over 450 films.
The Experience, Strength and Hope Awards® honors a sober celebrity who has written a memoir including his/her journey from addiction to sobriety. Past honorees and presenters have included Buzz Aldrin, Oscar-winner Lou Gossett, Jr., Jodie Sweetin, John Stamos, Pat O'Brien, Joey Pantoliano, Leigh Steinberg, Courtney Friel, Robert Downey, Jr., Danny Trejo, Mackenzie Phillips, Bobcat Goldthwait, Alonzo Bodden, Bob Forrest and Tony Denison to name a few.
All Writers In Treatment entities depend on its sponsors and advertisers, for more information on how to support this unique organization Contact: Leonard Buschel at 818.762.0461 or email info@writersintreatment.org

The Experience, Strength and Hope Award® is given in recognition of an individuals memoir that includes their honest journey from addiction to recovery, and their dedication and enthusiasm for creating awareness and reducing the stigma of addiction. The Experience, Strength and Hope Awards event was held on December 15, 2021 at the Skirball Cultural Center. In light of the current situation, we decided to scale down from the usual indoor attendance of 300 to a more intimate sit-down dinner for 50-100. The Experience, Strength and Hope Award was presented to Leigh Steinberg (last year's recipient, postponed due to Covid) and to Courtney Friel, this year's recipient.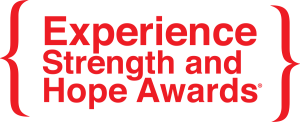 The event is a celebration of the benefits of clean and sober living
and the importance of humor in the recovery process.

WIT offers free referrals for individuals suffering from alcoholism or addiction. We publish the weekly Addiction/ Recovery eBulletin and produce the national REEL Recovery Film Festival & Symposium.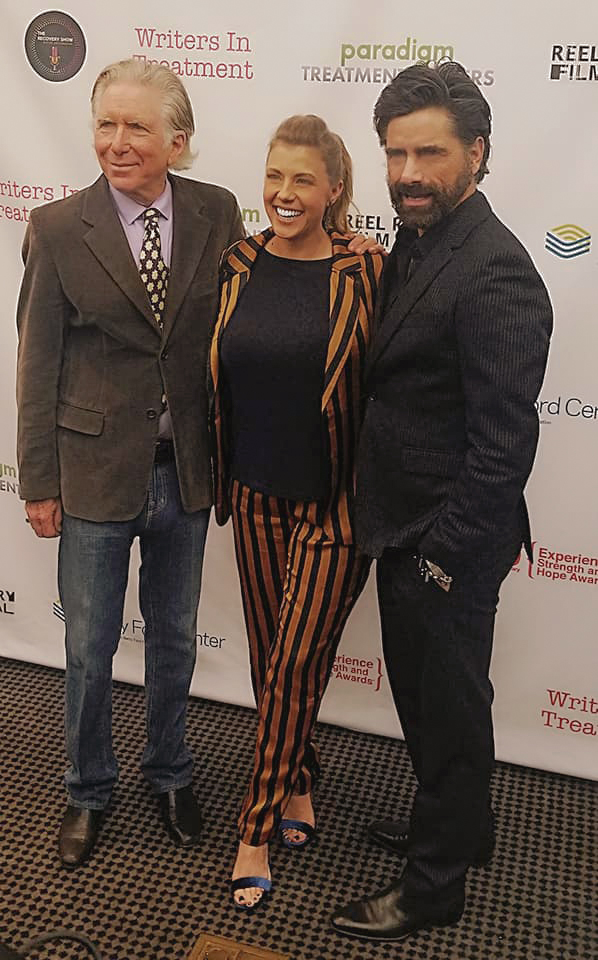 Watch Jodie Sweetin speak at the 2019 awards show.
Watch John Stamos thank Jodie Sweetin at the 2019 awards show.
Watch Carl Restivo sing to honoree Jodie Sweetin at the 2019 awards show.
8th Annual Experience, Strength and Hope awards show.
Joe Walsh agrees to do a duet with Tammy Cash.
8th Annual Experience, Strength and Hope Awards honors Pat O'Brien.