FOR IMMEDIATE RELEASE
MEDIA CONTACT:
JANUARY 28, 2019
Ahbra Schiff
Ahbra@writersintreatment.org
818.464.6877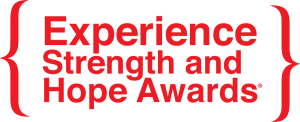 TV STAR JODIE SWEETIN TO RECEIVE
10th ANNUAL EXPERIENCE, STRENGTH AND HOPE AWARD®
FOR HER TELL-ALL BOOK
 LOS ANGELES, CA – Writers In Treatment, supporting recovery and the arts, is proud to announce this year's honoree of the 10th Experience, Strength and Hope Award® TV and film star, Jodie Sweetin.  Best known as the precocious middle daughter on ABC's Full House, today she continues to shine on and off screen and can be seen reprising her role as Stephanie Tanner in the Netflix reboot "Fuller House".
The 10th Annual Experience, Strength and Hope Award® is given in recognition of an individual's memoir including their honest journey from addiction to recovery, and their dedication and enthusiasm for carrying the "message" to a society awash in addiction. Previous recipients include: Oscar winning-actor Lou Gossett, Jr.; Astronaut Buzz Aldrin; Duran Duran's John Taylor; Carrie White; Emmy Award-winner, Joe Pantoliano, Mackenzie Phillips, Pat O'Brien and Jane Velez-Mitchell.
The event will take place on Thursday, February 28th at the Skirball Cultural Center.  Hosting this year's award show is none other than six-time Emmy Award nominee and environmentalist, Ed Begley Jr. Headlining the evening is comedian and star of Showtime and HBO comedy specials, Mark Schiff. The evening includes special appearances by Golden Globe winner Joanna Cassidy and past recipient Mackenzie Phillips. Tony Denison, star of TNT's "Major Crimes," will be presenting the annual REEL Recovery Film Festival "AUDIENCE FAVORITE AWARD" to "Andy Irons: Kissed By God" directed by Todd and Steve Jones.
"For the past ten years, it's been very gratifying honoring these remarkable individuals who've taken the time and have had the fortitude to bare their souls writing such compelling memoirs", remarked founder Leonard Buschel. "We mark this 10th anniversary honoring Jodie Sweetin, who went from adored child star, to struggling addict, then rising phoenix-like to become an author, devoted mother and full time TV and film actress. I am proud to be part of the same 12 Step fellowship that has helped so many become and stay Clean and Sober."
Past performers/presenters of the Experience, Strength and Hope Awards® include: Robert Downey, Jr.; Danny Trejo; Ione Skye; Bobcat Goldthwait; Daniel Baldwin; Dr. Gabor Maté; Alonzo Bodden; Mark Lundholm; Bob Forrest; Sharon Lawrence; and actor Jack McGee.
Event tickets are $100 and available for purchase at BROWN PAPER TICKETS.  Proceeds will benefit Writers In Treatment, which produces the national REEL Recovery Film Festival & Symposium. It is the longest recovery event in the country and provides thousands of attendees the best and newest films on addiction and mental disorders at no charge. We are grateful to our sponsors for their generous support is helping to make this year's event possible.
The event schedule is as follows:


Catered Reception from 5:30pm – 7:30pm
Red Carpet 6:00 pm – 7:00 pm
Show from 7:30pm – 9:00pm
Leonard Buschel and participants are available for phone interviews
For more information contact:
Ahbra K. Schiff
Director of Operations & Outreach
ahbra@writersintreatment.org
818.464.6877
****
URL: www.writersintreatment.org
FB:/writersintreatment
Instagram: leonardbuschel
****
About Writers In Treatment
Founded by Leonard Buschel, Writers In Treatment helps men and women in the writing industry suffering from alcoholism, drug addiction, and other self-destructive behaviors find treatment sources for their illness. The organization also produces REEL Recovery Film Festival & Symposium®, a multi-day event that showcases honest films about addiction; alcoholism, behavioral disorders, treatment and recovery, and publishes the weekly, Addiction/Recovery eBulletin. To learn more about Writers in Treatment, visit www.writersintreatment.org.
####